It probably isn't surprising that historical references to bows and arrows in Indo-Malaysia from the age of exploration are relatively few. The bow wasn't a particularly important weapon by the time Europeans arrived in the Indies, and in many cases European travellers and pirates were dealing with wealthy and established Rajadoms and Sultanates with the money to purchase European and Chinese firearms. Sulawesi and Borneo were dominated by blowguns and muskets, and the bow in Java and Sumatera seems to have been influenced far more by Indian archery tradition than anything native to the islands (for instance, Javanese arrows tended to have flights, unlike eastern Indonesian, Taiwanese, and Philippine examples). The reliefs on Javanese Hindu-Buddhist monuments probably don't represent much in the way of native Indonesian tradition.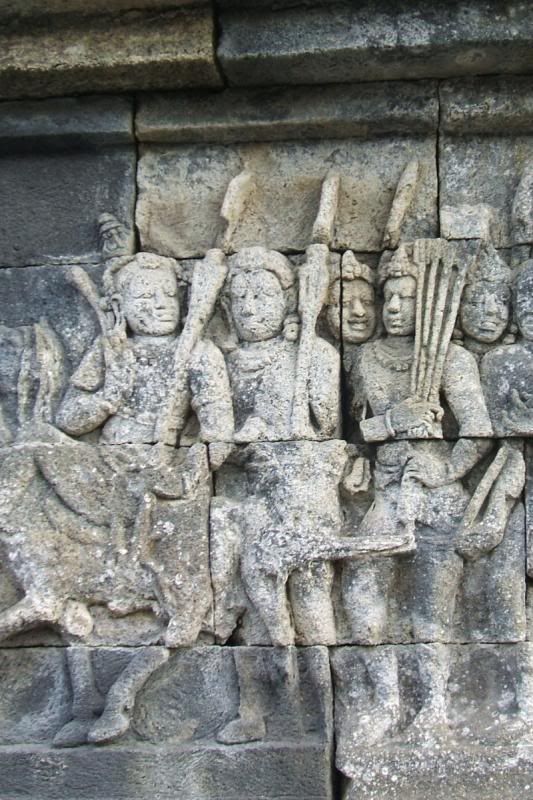 A relief showing fletched arrows from Borobudur (ninth century). Photo by I_clausewitz.
Still, there are a few things here and there, usually mentioning the bow in passing and often in the context of other weapons - blowpipes, muskets, and javelins. Needless to say, these references are not very detailed and give almost no information about the form or use of the bow. Here, I'll post a couple of short bits from the Commentaries of Afonso Dalboquerque, an account of Afonso de Albuquerque's conquests written in the middle of the sixteenth century by Albuquerque's son (also named Afonso de Albuquerque), and a longer segment from a description of the voyages of Francis Drake. The Commentaries were translated into English by Walter de Grey Birch for the Hakluyt Society in 1853 and ought to be freely available, although I have a print edition.
Albuquerque and Drake are two of the most famous names from sixteenth century Europe; there may well be better accounts by lesser-known people, but these are some of the only mentions I've found so far (Tome Pires seems like a good place to look, and there must be others).
Albuquerque was a short-lived Portuguese admiral who conquered several cities in the Indian Ocean in the wake of Francisco de Almeida's naval victory against a peculiar coalition of Asian and European powers at the battle of Diu in 1509. Riding Almeida's wave, Albuquerque conquered Hormuz (Iran), Goa (India), and Melaka (Malaysia) in the space of only a few years, securing these important trading centres for Portugal.
Albuquerque as Viceroy of India.
Drake circumnavigated the globe for the second time in human history and while this sounds like a noble achievement, he was motivated primarily by money (as, seemingly, were nearly all of these other famous Elizabethan explorers - dip into Hakluyt and you'll see how pervasive this motivation was). He dropped into Maluku on his way between the Pacific and Indian Oceans in 1579.
So, Albuquerque in Malaysia: In volume 3, chapter 27 of The Commentaries, poisoned arrows are mentioned in the battle for Melaka:
...when Antonio Dabreu in the junk had now arrived within a crossbow-shot from the bridge, the Moors [Muslim Melakans] began to open fire upon him from one side and the other with large matchlocks, blowing tubes, and poisoned arrows [...].
Poisoned arrows are frequently mentioned in ethnohistorical texts on Indo-Malaysia - Emily Richings, who published her account of travels in the Malay archipelago in 1909, even mentions them in Sulawesi, which is rather odd, given that the bow is otherwise unknown there. Either way, a very common trope.
After the capture of Melaka, Antonio de Abreu was dispatched by Albuquerque to explore Maluku in search of the sources of nutmeg and cloves. He was probably one of the first Europeans to visit the Banda Islands, the world's sole original source of nutmeg.
Later (chapter 28), recounting arms taken by the Portuguese from Melaka, The Commentaries say:
Large matchlocks, poisoned blowing tubes, bows, arrows, armour-plated dresses, Javanese lances, and other sorts of weapons, it was marvellous what was taken, besides much merchandise of every kind.
Albuquerque the younger gives much greater prominence to the blowpipe and guns of the Melakans, which perhaps isn't surprising, as these were doubtless more important arms in the Malay world. There's no mention of what the bows were like, but it's useful to know that such weapons were still in use and hadn't been superseded by crossbows as in much of mainland Southeast Asia.

What kind of bows were they? Did they resemble the long self bows seen in reliefs on Borobudur? I suspect they did, but there's no way to know.
A similar reference may be found in Hakluyt about Francis Drake's voyages. The account says that his ships 'fell in with the islands of Molucca' on the 14th of November, 1579, and the next morning Drake had a velvet cloak sent to the local king by boat. He doesn't say exactly where this was, but a later passage provides a clue:
This island is the chiefest of all the islands of Molucca. The King with this people are Moors in religion, observing certain new moons with fasting: during which fasts they neither eat nor drink in the day, but in the night.
This is assumed to refer to Ternate, a tiny island slightly west of Halmahera that dominated the early spice trade. It is claimed to be the oldest Islamic Sultanate in Indonesia, having been founded in 1257, although this is disputed (there is no independent evidence for this, if I remember correctly). The King met by Drake was probably Babullah Datu Shah, who ruled Ternate until 1583. Ternate's airport, which I intend to fly into this summer, is named after Babullah.
Ternate, 1720. Unknown Dutch artist. The small sail-less boats are orembai, a class of Moluccan vessel. The volcano in the middle is the still-active Gamalama which forms the bulk of the island.
On having established peaceful relations with the king, Drake was visited by an official delegation:
The king sent before 4 great and large canoes, in every one whereof were certain of his greatest, attired in white lawn of cloth of Calicut, having over their heads from one end of the canoe to the other, a covering of thin perfumed mats, borne up with a frame made of reeds for the same use, under which every one did sit in his order according to his dignity, to keep him from the heat of the sun, divers of whom being of good age and gravity, did make an ancient and fatherly show. There were also divers young and comely men in white attire, as were the others: the rest were soldiers.
This is a good description of what was probably a kora-kora, a canoe with outriggers and a large platform of reeds and mat. I had assumed that the kora-kora was a typically Bandanese vessel (the Banda Islands being the world's only source of mace and nutmeg in Drake's time), but that's not true. The scholarly consensus appears to be that Drake landed in Ternate, not Banda, although he never makes clear exactly where.
A stylised depiction of a kora-kora, by J. Corneliszoon van Neck, published 1601. I tried in vain to find a better quality image online - you might like to try Robin Donkin's Between East and West for a clearer view (Figure 20, p.151).
The description continues:
These canoes were furnished with war-like munition, every man for the most part having his sword and target, with his dagger, besides other weapons, as lances, calivers, darts, bows and arrows.

They rowed about us, one after another, and passing by, did their homage with great solemnity.

The king was a man of tall stature and seemed to be much delighted with the sound of our music, to whom as also to his nobility, our general gave presents.
A caliver is a firearm like an arquebus, and 'darts' in early modern English tends to refer to throwing spears. Again, what were these bows like? The fact that the Ternateans had guns indicates trade in arms with the west, but bows and arrows from Halmahera and other eastern Indonesian islands like Seram and Yamdena are traditionally very different to western Indonesian specimens and shoot long unfletched arrows. It would have been nice if the writer had been a bit more detailed in his description.

There then follows a description of sago, which Drake's ships received from the Sultan. This isn't the earliest European description of the food; Marco Polo mentions it.

After waiting a day some of Drake's men were invited to visit Babullah's court.
He was attired after the manner of his country, but more sumptuously than the rest. From his waist down to the ground, was all cloth of gold, and the same very rich: his legs were bare, but on his feet were a pair of shoes made of Cordovan skin. In the attire of his head were finely wreathed hooped rings of gold, and about his neck he had a chain of perfect gold, the links whereof were great, and one fold double. On his fingers he had six very fair jewels, and sitting in his chair of estate, at his right hand stood a page with a fan in his hand, breathing and gathering the air to the king. The fan was in length two foot, and in breadth one food, set with eight sapphires, richly embroidered, and knit to a staff 3 foot in length, by which the page did hold, and move it.
That's the end of the account of Ternate. Drake then went to Bacan (known as 'Barateve' in the account) and some other islands south of Sulawesi's northern arm before making his way to Java.
The Ternate language, by the way, is non-Austronesian, of the Halmahera family. Most Ternateans today speak Ternate Malay, a kind of Moluccan Malay influenced by the Ternate language.